Motorcycle Trailers with Wheel Chock
Title: Ultimate Convenience on the Road: Motorcycle Trailers with Wheel Chock by TowSmart Trailers
Introduction
For motorcycle enthusiasts who relish the thrill of the open road, having a reliable trailer that ensures a smooth journey is paramount. Enter the Motorcycle Trailers with Wheel Chock, the ultimate road companion designed to keep your bike securely in place during transport. In this article, we delve into the world of TowSmart Trailers, where every trailer is equipped with a wheel chock, offering convenience, safety, and peace of mind for your every adventure.
The Significance of Wheel Chocks: Ensuring Safe Travels
Keeping Your Bike Secure: The Role of the Wheel Chock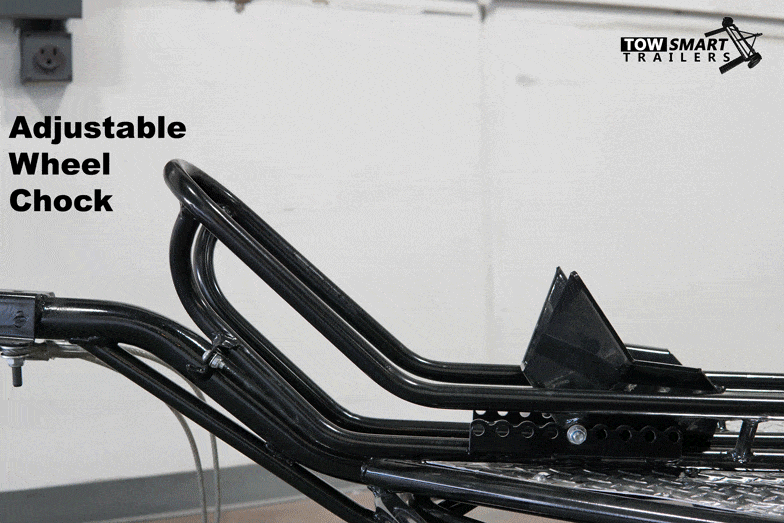 A wheel chock is a crucial component of motorcycle trailers, serving as the bike's anchor during transport. When your motorcycle is securely nestled in the wheel chock, you can bid farewell to worries about shifting or tipping during transit. The wheel chock keeps your bike firmly in place, allowing you to focus on the joy of the ride ahead.
Stress-Free Loading and Unloading: Ease of Use and Convenience
With a wheel chock in place, loading and unloading your motorcycle become a breeze. The chock provides a stable base, allowing you to effortlessly guide your bike onto the trailer. Once secured, you can confidently embark on your adventure, knowing that your prized possession is snug and ready for the journey.
Reducing Stress on Tie-Downs: A Safeguard for Your Bike
Tying down your motorcycle is an essential part of trailer preparation, but the presence of a wheel chock reduces the stress on tie-downs significantly. The chock's ability to hold your bike upright means that the tie-downs are not solely responsible for keeping the bike in place, enhancing their durability and reliability during your travels.
TowSmart Trailers: Where Every Trailer Comes with a Wheel Chock
Convenience and Peace of Mind: Standard Wheel Chocks for All Trailers
At TowSmart Trailers, we understand the importance of a secure and hassle-free journey for every rider. That's why each and every one of our motorcycle trailers is thoughtfully equipped with a wheel chock as a standard feature. We believe in providing convenience and peace of mind to our customers, ensuring that their road adventures are nothing short of extraordinary.
Versatility in Trailers: Wheel Chocks for Every Motorcycle Model
TowSmart Trailers takes pride in offering a wide range of trailers, each tailored to cater to different motorcycle models and preferences. Whether you ride a cruiser, touring bike, sportbike, or any other model, rest assured that your TowSmart trailer will come equipped with a wheel chock that perfectly accommodates your bike, providing the utmost security.
Premium Quality and Craftsmanship: Building Trust on the Road
As advocates of safety and reliability, TowSmart Trailers prioritizes premium quality and craftsmanship in every product. Our wheel chocks are engineered to withstand the rigors of the road, ensuring a secure and stable ride for your motorcycle. With TowSmart Trailers, you can have full confidence in the equipment that supports your journey.
A Seamless Journey: Benefits of Motorcycle Trailers with Wheel Chock
Enhanced Safety and Stability: Enjoy the Ride with Confidence
The presence of a wheel chock in your motorcycle trailer translates to enhanced safety and stability. Feel the confidence as you navigate through winding roads, knowing that your bike is well-supported and protected throughout the journey.
Simplified Loading and Unloading: A Stress-Free Experience
Gone are the days of wrestling with cumbersome tie-downs during loading and unloading. With the wheel chock securing your motorcycle in place, the process becomes a stress-free and seamless experience, allowing you to focus on the adventure ahead.
Worry-Free Long-Distance Travel: Peace of Mind Across Miles
Long-distance travel calls for equipment that can withstand the test of time and distance. With a wheel chock-equipped motorcycle trailer from TowSmart Trailers, you can embark on cross-country expeditions with the assurance that your bike is in safe hands, mile after mile.
Versatility for Various Motorcycle Models: A Perfect Fit for All
Whether you ride a classic cruiser, a sleek sportbike, or any other model in between, TowSmart Trailers has the perfect wheel chock to accommodate your bike. The versatility of our trailers ensures that no matter the motorcycle, your ride will be secure and snug on the road.
Conclusion: Confidence and Convenience, Mile After Mile
In the world of motorcycle trailers, having a wheel chock is the mark of a truly reliable and secure ride. TowSmart Trailers has taken this to heart, equipping each and every one of their trailers with a wheel chock to provide convenience, safety, and peace of mind to riders far and wide.
As you embark on your next adventure, let the wheel chock be your steadfast companion, supporting you on every journey. Trust in TowSmart Trailers and enjoy a seamless ride, confident in the knowledge that your prized motorcycle is in the best hands possible.
---
2 comments
---
---