Motorcycle Trailer for 3 Bikes.
$2,099.00
SOLD OUT CHECK OUT-THE ENDEAVOR POWER-SPORT UTILITY FOLD UP TRAILER




Three Rail Motorcycle Trailer 
Lightweight Motorcycle Trailer simply designed to tow 1,2 or three motorcycles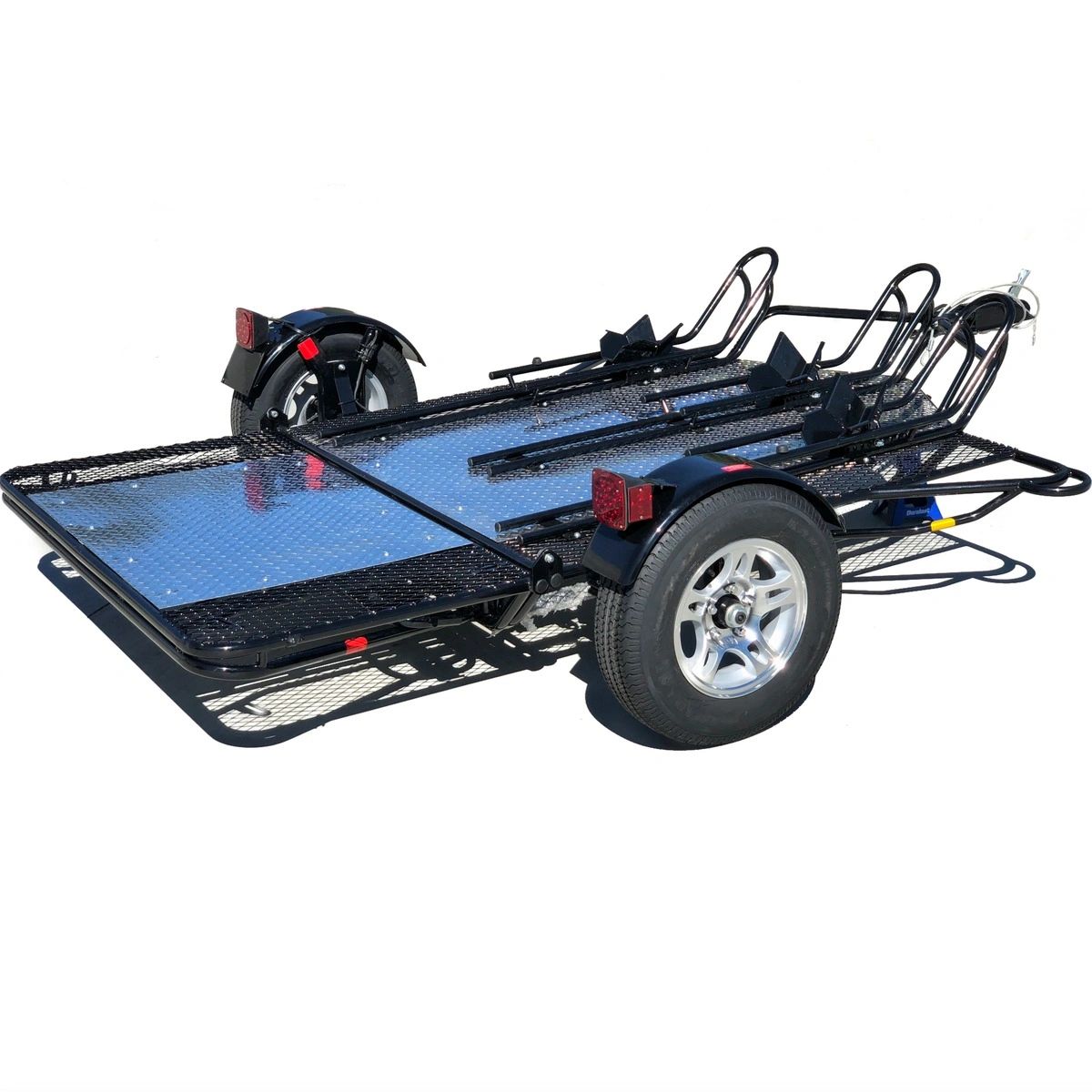 SHIPPING TO THE NEAREST XPO LOGISTIC Service Center Starting at $ 189.00.  
Bikers love their bikes. Sounds pretty obvious, doesn't it? But by the looks of some of the trailers we've seen hauling these prized motorcycles around, you might not be so sure. That's where we come in. Your bikes deserve a trailer that's worthy to haul it. A trailer that's built right, with quality parts and killer looks too. Our three rail motorcycle trailer Independent torsion-axle design makes it easy to maneuver and even simpler to store. Mag wheels, chocks, a ramp, and radial tires are standard. The finish is powder coated for maximum durability! 
But the best part is, it's fully adjustable to carry up to 3 sports bikes or 2 baggers side-by-side or 1 bike. Changes in the type of toys you own happened from time to time but not so much with trailers, if this is the case this unit is capable of being converted to a Golf cart trailer or utility trailer within minutes. The removable rails can be removed with ease. Providing a flat 5'x7' space! We look forward to providing you with a motorcycle trailer you'd be proud to haul your bike on!
Three Rail Motorcycle trailer FEATURES:
5′ x 7′ Bed * Transports up to 3 bikes – Choppers, Sports Bikes, and Dirt Bikes
Independent Torsion axle
Rust-resistant powder coat finish
13″ Aluminum wheels – STANDARD
Radial tires – STANDARD
Diamond tread plate floor
Lightweight tubular frame (425 lbs. empty weight)
Includes loading ramp
3 integrated Adjustable wheel chocks
Tailgate Folds for easy storage 
Wide channel rail accommodates a vast range of tire sizes
Transports Goldwing motorcycles, Harley-Davidson, cruisers, sport bikes, and more*
1 Standard Ramp
1 New Foldable Wide Ramp
Three Rail Motorcycle trailer SPECIFICATIONS
Trailer Deck Dimensions - 5' x 7'
Clearance to the Bottom of the Deck - 13 ¼''
Clearance to the bottom of the undercarriage - 7''
Center to the center of each rail - 20 ¼''
Tailgate Length - 32''
Folded Length - 90'' 
Maximum Overall Width - 84''
Maximum Extended Length - 120''
Maximum Motorcycle Length – Outside Rail - 105''
Maximum Motorcycle Length – Center Rail - 97''     
Tire Size - ST175/80 R13
PREMIUM WHEELS COME STANDARD!           
Wheel - 13'' Aluminum  MAG
Air Pressure - 50 cold psi
Tire Size - ST175/80 R13
Empty Weight - 425lb
Maximum Load Capacity - 2000lb
Hitch - Class 2 or Higher
Hitch Height - 21'' - 22'' H
Ball Size - 2''
Suspension - Torsion Axle
Frame Material - Tubular Steel
Bike Trailer Deck Covering - Diamond tread plate
Foldable motorcycle trailer tailgate with ramp storage
Shipping
*Shipping Starting at $189.00 - $289.00. Shipping only applies to the following states CA, OR, WA, NV, AZ, UT & ID. Due to Trailer sizes, trailers are shipped to nearest XPO LOGISTIC SERVICE CENTER or Business with Forklift or Dock. Items usually ship 2-3 business days after purchase transit days range from 2-4 days. Please contact us for an exact shipping address for terminal (562-788-0416).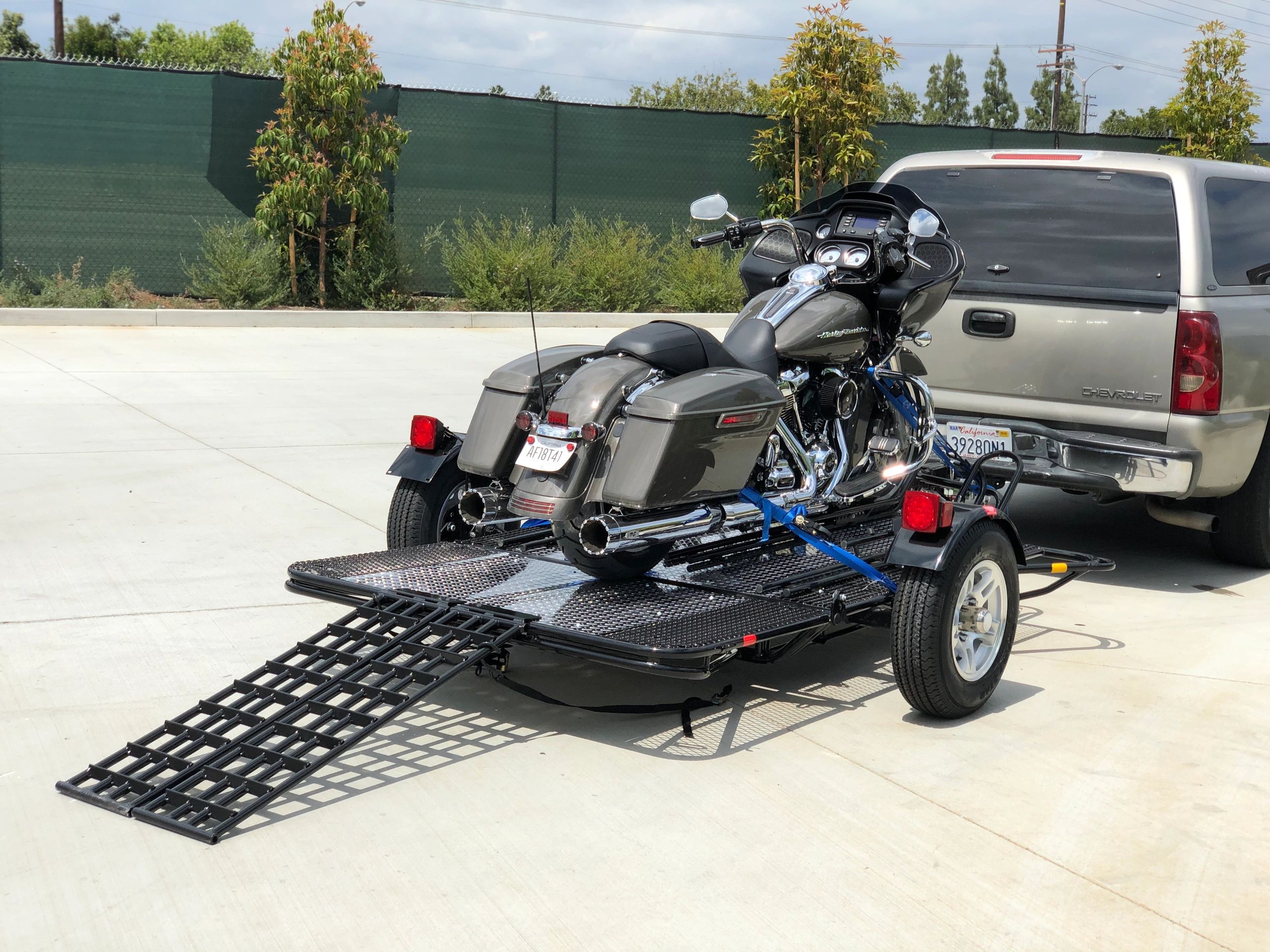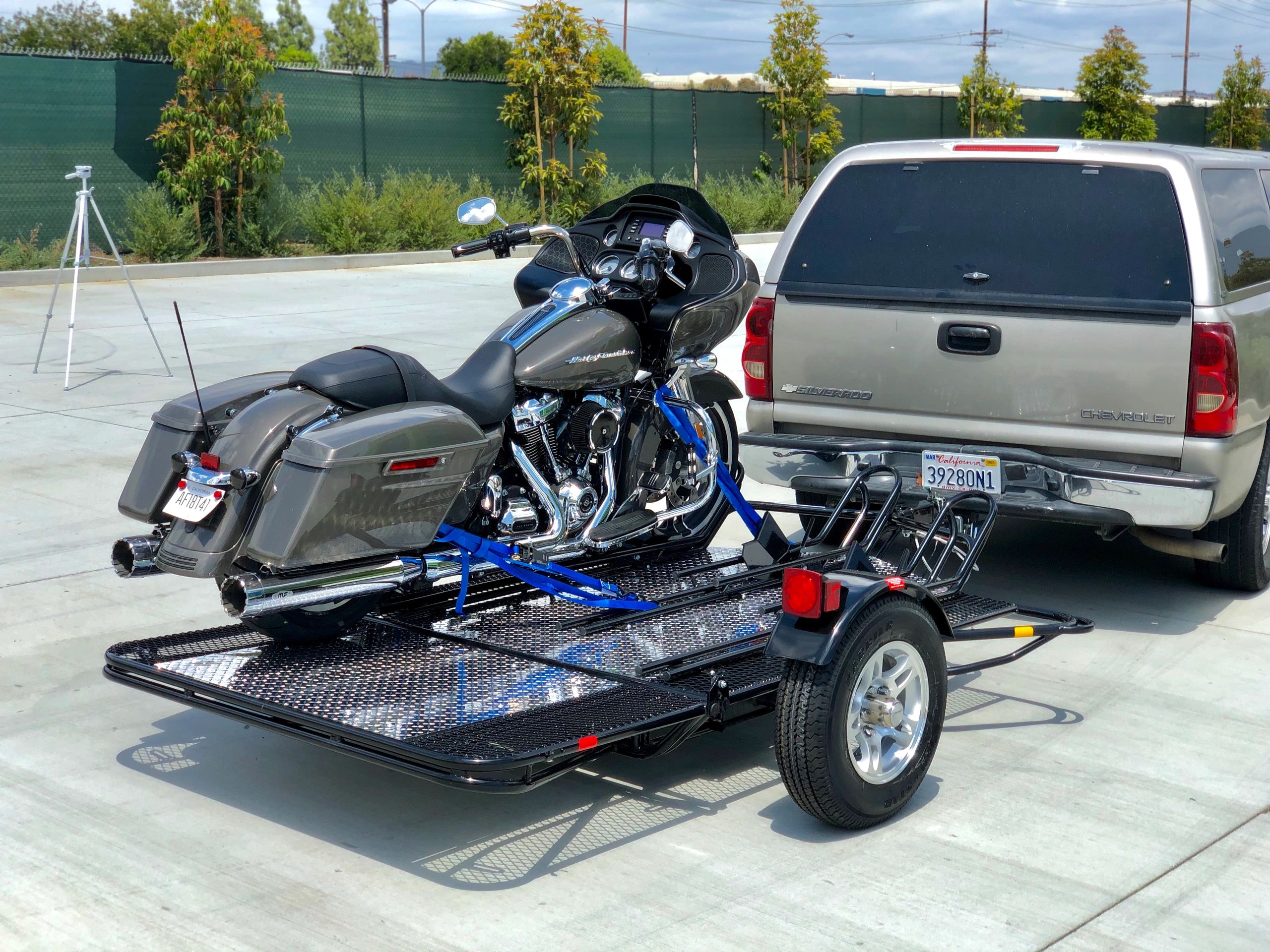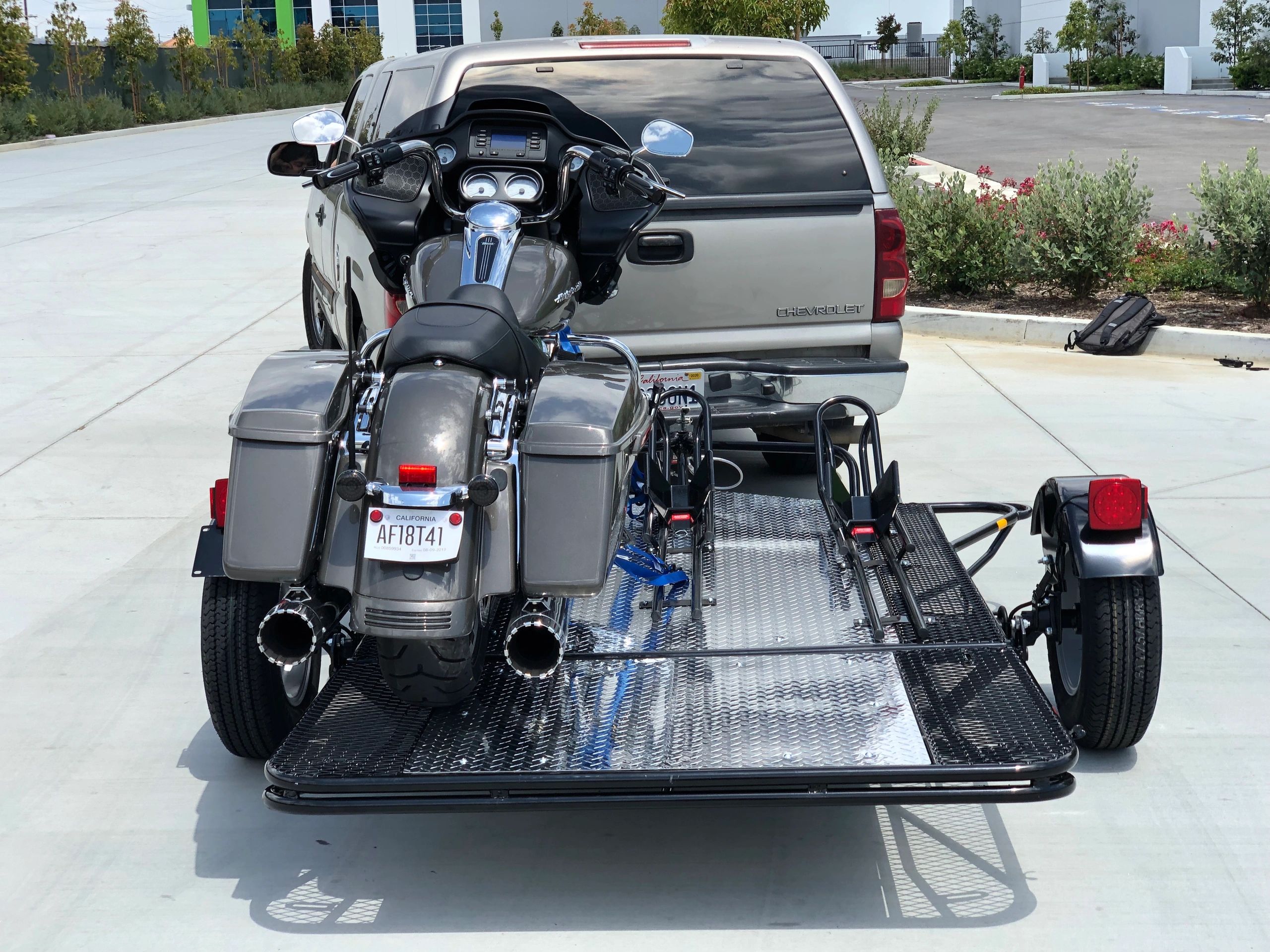 All Trailers are sold as unassembled kits, some assembly is necessary.
Square Installments