EZ-Haul Tow Dolly With Surge Disc Brakes
$2,199.00
 Introducing the Stand-Up EZ Haul Car Dolly With Hydraulic Disc Brakes!


The only car dolly in the market capable of storing Vertically without any assistance.
Designed for a range of vehicles from Mini Coopers to 80" wide trucks or SUVs. The Stand-Up EZ Haul car dolly unit weighs only 380 Pounds with a total maximum load capacity of 5000 pounds. Equipped with Hydraulic Disc to Brakes to ensure safe travel. Two removable adjustable ramps are also included to satisfied a range of low profile vehicles. Lashing winches, straps, and cradle safety chains come standard with every order!
Flat Rate $250.00 Shipping To the Nearest XPO Destination Center
The Stand-Up EZ Haul tow dolly can be stored in an average size garage. EZ Haul Stand up tow dolly storage footprint is just L-102"xW-24"xH-88" Say goodbye to costly RV campground fees!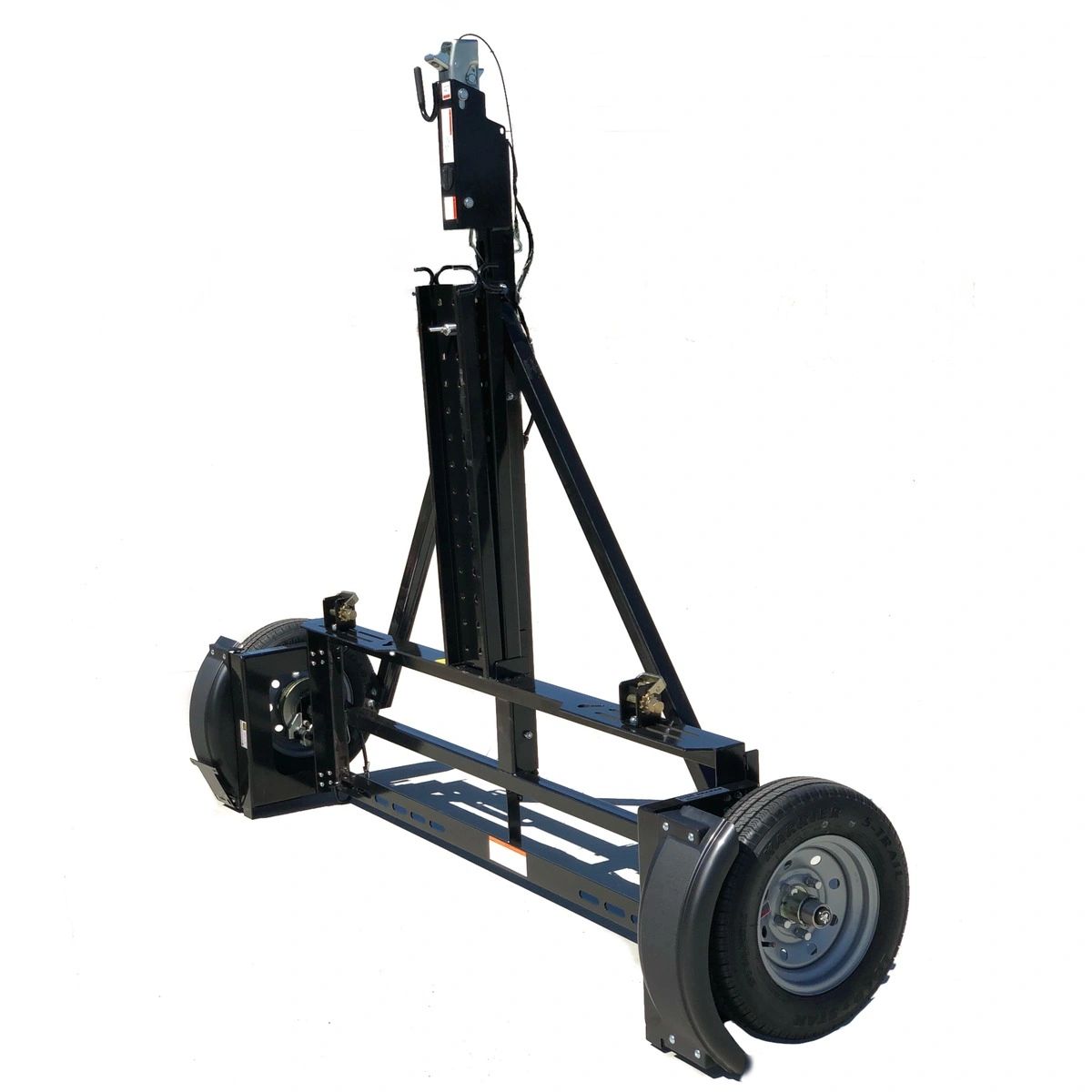 Self-adjusting Hydraulic Disc Brakes
EZ-Haul Stand up Car Tow Dolly is equipped with a Trailer Buddy® actuator and hydraulic disc brakes. These self-adjusting brakes are self-contained and low maintenance. Hydraulic disc brakes are easy. The amount of force applied to the trailer brakes is directly proportional to the amount of force generated by the tow vehicle—no adjustments, no buttons.
Specifications
Overall Dimensions L 84"x W 102"x H 25"
Cradle Dimensions L 22"x W 80" 
Storage Dimensions L 25"x W 102" H 84"
Overall Towing Capacity- 4900Lbs
Ramp Dimensions L 40" x W 9" H 2"
Features
Stand up for storage capability 
(2) 6,500Lb Lashing Tie down winches
(2) Cradle Safety Chains with "S" clip
Steel Fender Brace with Fender
ST145 R12 Radial 10 Ply E Rated Tire
Requirements
Partial Assembly is required for this unit. 
Shipping 
*Flat Rate Shipping $250.00, Shipping only applies to the following states CA, OR, WA, NV, AZ, UT & ID. Due to Trailer sizes, trailers are shipped to nearest XPO LOGISTIC SERVICE CENTER or Business with forklift or Dock. Items usually ship 2-3 business days after purchase transit days range from 2-4 days. Please contact us for an exact shipping address for the terminal (562-788-0416). 
You must check with your automobile's manufacturer to determine whether or not your vehicle can be towed using a tow dolly. Things to consider:
1)   Never tow a vehicle with the rear wheels on the tow dolly

2)   Your car's steering wheel must be unlocked when towing. Even when the steering wheel appears to be unlocked, some automobile steering wheels will lock when turned to the far right or left. To ensure that this doesn't happen you may be required to leave the ignition in the accessory position/mode. Check with your automobile's manufacturer to determine the correct actions to prevent the steering wheel from locking.

3) Determine whether your automobile's transmission should be placed in park or neutral. If the transmission must remain in neutral for towing, then determine the required ignition setting to ensure that the transmission remains in neutral during the tow.

4) Some automobiles require that you disconnect a battery terminal to ensure that the automobile remains in neutral and that the steering wheel remains unlocked. You may also be able to accomplish this by removing the ignition fuse. In either scenario you may lose your automobile's settings, so you may want to use a memory saver or memory keeper. These plug into your automobile's 12V power supply/cigarette lighter.

5) All-wheel drive automobiles require careful consideration